Main Content
Graduation Starts Today!
SIU's University College (UC) was created to help you SUCCEED in your first year at college.
We'll help CONNECT YOU to information about events, university updates, employment opportunities, pending academic deadlines, tutoring schedules, speakers and services.
Simply put - we go out of our way to make sure you benefit from all the available resources to ACHIEVE YOUR GOALS.
Browse through the links on the left to learn more about our department and what we can do for you!

University College Kudos
Steven Dew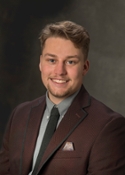 "Steven E. Dew is the 2016 Lincoln Academy of Illinois student laureate for Southern Illinois University Carbondale.
Dew, of Downs, is a University Honors Program scholar who is pursuing a double major – television/video production in the College of Mass Communication and Media Arts, and financial economics in the College of Liberal Arts. He has earned dean's list honors in each of his six semesters, has a 4.0 GPA, and will graduate in May 2017.
Since his sophomore year, Dew has worked as a tutor in the university's Achieve Program. The academic support program provides in-house assistance and serves students with learning difficulties to help them succeed and reach their goals. Dew's focus is on economics and radio, television and digital media, but he also works as a general tutor."
Source: Pete Rosenbery, news.siu.edu
University College congratulates Steve on his recent accomplishment. We are proud to have him on our team!
University College Kudos
Francesca Sanchez
Francesca Sanchez is a junior Chancellor Scholar. She majors in Microbiology, and double minors in Chemistry and Art. She is a student employee in the University College Dean's office, and has been an undergraduate researcher at Dr. Vjollca Konjufca's lab for the last three years. This last summer, she had a fellowship at Washington University School of Medicine in St. Louis. This fellowship was done through the Opportunities in Genomics Research at the McDonnell Genome Institute program. She presented her summer research at the Annual Biomedical Research Conference for Minority Students (ABRCMS), which took place in Tampa, Florida. There were over 1,800 oral and poster presentations, and about 250 awards were given at the ceremony. Francesca received the 2016 ABRCMS Presentation Award in the Developmental Biology Category.
University College congratulates Francesca on her award. We are proud to have her a part of our team!
UNIVERSITY COLLEGE VISION
University College is your gateway to student success by cultivating student discovery, growth and achievement at SIUC.
UNIVERSITY COLLEGE MISSION
University College will help you turn your passion into action. We strive to unite diverse populations by promoting long-lasting relationships and connections along your academic journey. Graduation starts today!